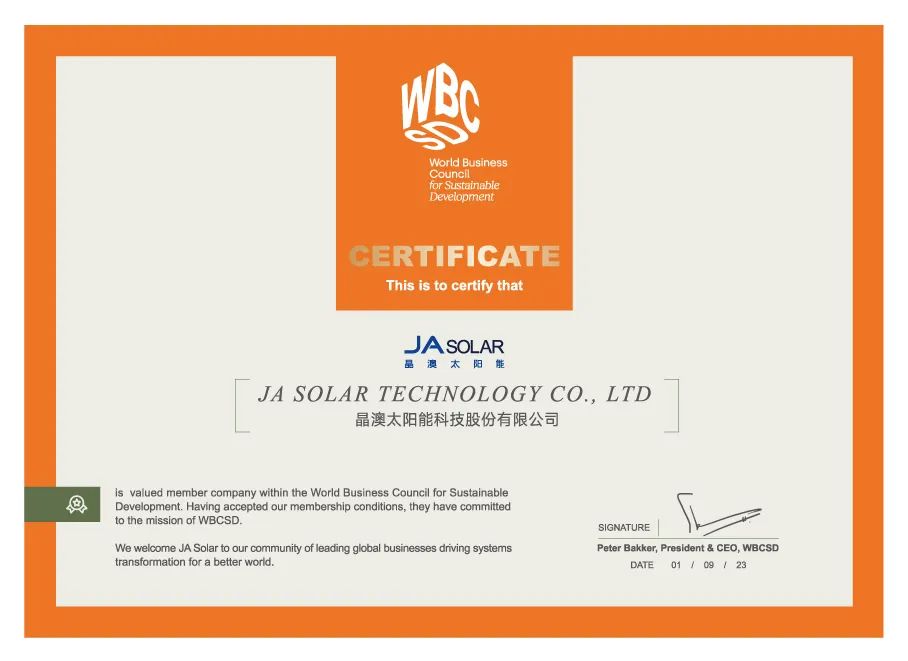 Our objectives in sustainable development
JA Solar is guided by the sustainability concept of "Green to Green, Green to Grow, Green to Great" to supply zero-carbon clean energy and achieve zero-carbon green development while striving to create a high-quality sustainable development model.
"Green to green" for building circular economy
JA Solar has implemented the sustainable development concept of building green factories, manufacturing green products, generating green energy, and jointly creating a green planet in its operations. The Company advocates taking the green and low-carbon concept as a guide, reshaping the business model of the enterprise, and advancing the green cycle of the full industry chain life cycle. On the one hand, the Company comprehensively implements the requirements of energy conservation, environmental protection, pollution reduction and carbon reduction while facilitating a green manufacturing system. At the same time, the Company promotes the recycling of resources in all aspects of production. Through the application of digital technologies such as 5G technology and big data, we have created an intelligent green factory, thereby driving the realization of a green cycle in the PV industry chain.
"Green to grow" for greener development
Increasing the application of green energy and reducing fossil energy consumption is critical to achieving green development. Adhering to the business philosophy of stable growth for sustained profitability, JA Solar actively cooperates with upstream and downstream partners to build a "zero-carbon" ecosystem. By driving the technological development of PV products, expanding the scale of PV power plants, and innovating and exploring energy storage technologies, the Company is committed to working with value chain partners to jointly boost the widespread application of clean energy in various industries, while contributing to global green development.
"Green to great" for sustainable future
Since its founding in 2005, JA Solar has established its mission of "developing solar power to benefit the entire human race " and is committed to becoming a great enterprise. Over the years of operation, JA Solar has not only provided green power generation products to the world but has also been ardently practicing social responsibility. The Company benefits all parties locally and abroad through various forms such as PV-based poverty alleviation, charity donations, disaster relief and education assistance. This contributes to the realization of a mutually beneficial situation for the environment, climate, society, and economy. Together with the rest of the world, JA Solar creates a green and promising future for the humanity.
Our sustainable commitments in achieving the accord's targets
Our sustainable commitments in achieving the accord's targets
Reach Net Zero GHG emissions no later than 2050; Contribute to nature/biodiversity recovery; Legal compliance; Support for inclusion, equality, diversity and the elimination of any form of discrimination; Operate at the highest level of transparency.
Commitment to achieve net zero GHG emissions no later than 2050
JA Solar is consistently organizing carbon inventory work to identify its own carbon emissions. In November 2022, it joined the Science Based Targets initiative (SBTi), with a commitment to helping limit global warming to around 1.5° C. It promotes the setting of carbon reduction targets in a more sustainable and international manner.
In favor of inclusion, equality, diversity and prohibit any form of discrimination
JA Solar respects human rights policies and human rights due diligence procedures and adheres to the United Nations "Guiding Principles on Business and Human Rights". In addition, JA Solar firmly prohibits all forms of workplace discrimination, harassment, coercion, threats, and violence, and has established a sound human resources management system. It adheres to equal pay for equal work for both male and female employees as part of our commitment to creating a fair workplace environment.
JA Solar provides employees with equal opportunities, a safe work environment and decent work. This supports them in obtaining fair income, a better workplace, better welfare protection, and personal development prospects. While creating employment opportunities, the Company drives the development of enterprises in the upstream and downstream of the industrial chain and fosters the sustainable development across the industry.
Our focused topics in sustainable development
We have established the Strategy and Sustainability Committee to help achieve the Company's ESG and sustainable development strategic goals. We actively implement the green manufacturing system, pay a premium on resource conservation and intensive utilization, and widely apply digital technology and intelligent manufacturing to create a green intelligent manufacturing factory. Adhering to scientific governance and compliance management, we abide by national laws and regulations and internationally accepted rules, with a "zero tolerance" attitude towards corruption and fraud. This promotes the healthy development of the PV industry through strict internal control and fair competition and cooperation.
Actively addressing climate change and leading global energy transition
Following the framework of the Task Force on Climate-related Financial Disclosure (TCFD) to manage the issue of climate change in an integrated manner.
Joined the Science-Based Target Initiative (SBTi) and made a commitment to limit global warming to 1.5℃.
Became the first PV company in the world to join the CDP Supply Chain Program to enhance the ability of suppliers to cope with climate change risks.
Being invited to participate in the COP27 series of activities of the United Nations Climate Change Conference, where Chairman Jin Baofang delivered a climate-related speech.
Reached a strategic cooperation agreement with Beijing Green Exchange to explore a new pathway for PV industry to cope with climate change.
Participated in the "Zero Carbon Mission International Climate Summit 2022" and signed a strategic cooperation agreement with WWF (World Wide Fund for Nature).
Became a founding member of the Sustainable Markets Initiative (SMI) China Council and participated in the meeting with King Charles III of the United Kingdom.
JA Solar disclosed its greenhouse gas emissions report for the first time (2020-2022). The figures of 2022 are as follow:
Total operation-wide GHG emissions is 1,879,379 tCO2e;
33% reduction in operation-wide GHG emissions intensity;
27% of green electricity usage across the Company
JA's cumulative cell and module shipments of 152 gigawatts (GW) and annual electricity production of 198 Terawatt hours (TWh) are equivalent to planting 10 billion trees and reducing CO2 emissions by 200 million tons.
JA is committed to achieving net-zero greenhouse gas (GHG) emissions, which include Scope 1, Scope 2 and the most relevant and impactful Scope 3, no later than 2050, and to developing a science-based carbon reduction program in accordance with SBTi to achieve this goal and contribute to the realization of the United Nations Sustainable Development Goals (UN SDGs) and the WBCSD Vision 2050.
BUILDING A GLOBAL LEADING SUSTAINABLE DEVELOPMENT GOVERNANCE SYSTEM
JA Solar leapfrogs into phase 3.0, by establishing the organizational structure into three level, namely board level, management level and executive level (note: this structure is commonly seen in top-tier companies). By adding on to it, a total of 265 ESG indicators have been established internally, including 114 qualitative indicators and 151 quantitative indicators, with 25 substantive ESG issues in focus.
Building an entire green industrial chain
Practicing in green production
6 production bases were recognized as national "green factories".
All production bases have passed the environmental management system certification.
5 production bases passed the energy management system certification
27% of green electricity usage
The amount of water recycled is 6,627,600 cubic meters.
Recycling of 54,390.50 tons of waste.
Product Life Cycle Management
Green Raw Materials - Assisting suppliers to carry out carbon footprint certification of raw materials to create green and low-carbon raw materials.
Green Packaging - Explore green packaging and package material recycling, Yangzhou base battery carton package material recycling over 400,000 sets.
Low-carbon logistics - Completing the "oil-to-electricity" conversion of forklifts, piloting sea-rail intermodal transportation, promoting localized procurement, and reducing carbon emissions from transportation.
Dismantling and Recycling - Initiated the establishment of the "PV Recycling Industry Development Cooperation Center" and strategic cooperation with PV CYCLE to promote the dismantling and recycling of discarded photovoltaic modules.
Create green products and advocate green culture
All mainstream products have passed the French Certisolis carbon footprint certification.
All 182 types of mainstream products have been certified by UL EPD of Italy.
DeepBlue 3.0 was certified by Korea Environmental Protection Certificate.
A number of products were selected as the first batch of "green design products" for PV modules by the Ministry of Industry and Information Technology (MIIT).
Holding 963MW of PV power plants, with annual power generation exceeding 800 million kWh.
Beijing headquarters achieved carbon neutrality in operation in 2021.
Conducted a total of 345 environment-related training sessions, covering about 13,420 people.
Promote efficient utilization of water resources
Water Consumption Target
Yangzhou Base Annual target of water consumption reduction by 3%
Leading Treatment Technology
Yiwu Base: COD discharge only up to 1/3 of limit Ammonia nitrogen & total nitrogen discharge density only up to 1/2 of limit
Recycle & Reuse
Qu jing Base: Reclaimed water utilization rate over 85%
Yiwu Base: Condensate water reuse project saving 74, 000tons of water throughout the year
Continuous optimization of supply chain management
Proportion of main material suppliers certified to ISO9001 quality management system100%
Proportion of main material suppliers certified to ISO14001 environmental management system80%
Proportion of main material suppliers certified to ISO45001 occupational health and safety management system80%
Signing rate of Supplier Environmental Health/Safety and Social Responsibility Commitment100%
RoHS/REACH survey for all main material supplier materials100%
Conduct supplier SA8000 awareness and transfer social responsibility-related systems to upstream suppliers.
Commitment to avoid the use of minerals that directly or indirectly finance conflict in covered countries and disclosure of the origin of conflict minerals used in products.
Our best practices and achievements
JA Solar received the highest "AAA rating" for PV TECH's bankability in 2022. The Company has been ranked among the "Fortune 500 China" for many years. JA Solar has also actively responded to climate change. Based on carbon inventory, JA Solar's Beijing Headquarter has achieved carbon neutrality in operational emissions in 2021. In 2022, the Company joined the Science Based Targets initiative (SBTi) and became the first PV enterprise to participate in the Carbon Disclosure Project (CDP) supply chain project to address climate change; meanwhile, JA Solar has become the first Chinese private enterprise and the first solar company worldwide joining World Business Council for Sustainable Development (WBCSD).